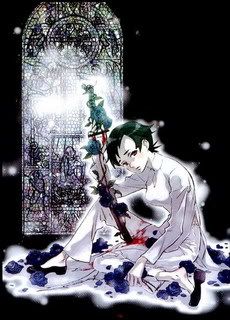 Tác giả: KATSURA Asuka
Tên khác: 血战, Blood +, Blood Plus, Huyết Dương.
Thể loại: Action Horror Mystery Romance Shounen Supernatural
Năm phát hà nh: 2005
Nhóm Scan: Illuminati-Manga
Tình trạng: 2/5
Anime Start: at vol 1 chap 1.Xem thêm về anime tại đây
Tóm tắt nội dung: Saya, the main character, lost her memory and has been living with her adopted family. Her everyday life seems quite normal, except that she eats a lot more than she actually needs. Then one day she meets a guy named Haji in a park. She is told that he has been searching for her, for a long time. Since then, her normal life has changed completely.
A high school girl named Saya can not remember anything from her past. A handsome young man, Haji, appears and something seems familiar about him. This girl is more than human with an ancient and mysterious past. She will hunt down and kill the monsters called Chiropterans.
Download
Vol 01: [ fileserve.com ]{ Click to Download! }

Vol 02: [ fileserve.com ]{ Click to Download! }

Vol 03: [ fileserve.com ]{ Click to Download! }

Vol 04: [ fileserve.com ]{ Click to Download! }

Vol 05: [ fileserve.com ]{ Click to Download! }
Vol 01: [ filesonic.com ]{ Click to Download! }

Vol 02: [ filesonic.com ]{ Click to Download! }

Vol 03: [ filesonic.com ]{ Click to Download! }

Vol 04: [ filesonic.com ]{ Click to Download! }

Vol 05:[ filesonic.com ]{ Click to Download! }