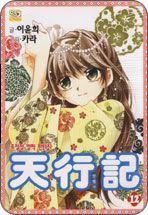 Name: Angel Diary , Chunheng , Destination Heaven Chronicles
Author: LEE Yun Hee
Artist: Kara
Genre: Action Adventure Comedy Fantasy Gender Bender Romance School Life Shoujo Supernatural .
Related Series : Demon Diary (Spin-Off)
Groups Scanlating: Condensation, DMM, MLFS,Manga Temple,[ RC-SCANS ]
Status : 13 Volumes (Complete) (Bonus Volumes included)
Description :
The only Angel Princess of Heaven is betrothed to the Emperor of the Underworld. Unable to accept her future with the Demon King, she realizes that her only choice is to run away. Her plan is to join the human world disguised as a schoolboy! Now all of the Gods from Heaven and Hell are searching high and low on the earth trying to make sure that a wedding happens.
Download
Vol 01-04: [ fileserve.com ]{ Click to Download! }

Vol 05-08: [ fileserve.com ]{ Click to Download! }

Vol 09-10: [ fileserve.com ]{ Click to Download! }

Vol 11-13: [ fileserve.com ]{ Click to Download! }
Vol 01-04: [ filesonic.com ]{ Click to Download! }

Vol 05-08: [ filesonic.com ]{ Click to Download! }

Vol 09-10: [ filesonic.com ]{ Click to Download! }

Vol 11-13: [ filesonic.com ]{ Click to Download! }